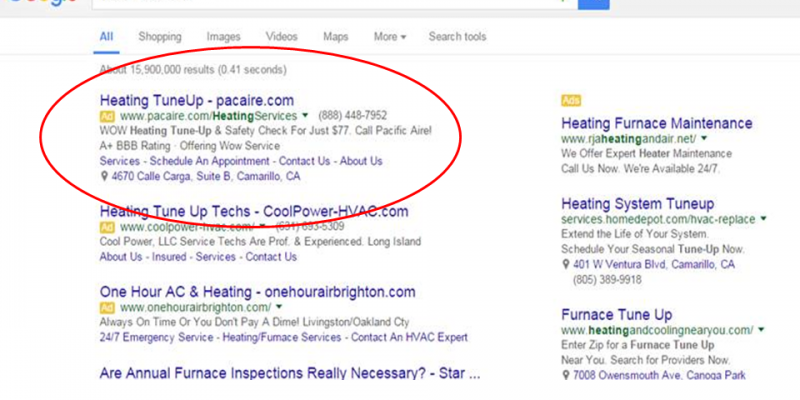 Importance of SEM for Lead Generation
In a nutshell, Search Engine Marketing is where paid advertising appear on the results page of search engines. For example if you were to search for "plumbing service" on Google, you'd see a couple of Ads on the top and the right side of the page. These are created via SEM. 
SEM is very useful for lead generation, and along with traditional Broadcast advertising, it's a big part of what we do at SGM Advertising. Think about it, your ads will only appear when someone makes a search related to your product. Not only are you reaching targeted audience, but you're also reaching them when they have the optimum mindset – purchase intent
If you look at other types of advertising like Facebook Ads, you'll see that though you may be able to create a very niche segment audience to target, you may not be reaching out to them at the right time. The relevant customer base may see your advertisement but there may not be purchase intent at that point in time. Hence the chances of conversion are much lower.
For businesses home improvement businesses such as heating and plumbing, it probably isn't realistic to make a purchase of the services online. However you'll wan to ensure you still try to "grab" every opportunity to sell your service. As such the landing pages should always contain lead generation options (telephone number, email address, enquiry form, Live Chat) so that you would be able to contact the customer via an offline channel (e.g. phone call) to close the deal.
According to an article from The Statistics Portal, over 1 billion people use google search as of 2013. The number would have probably increased tremendously today with more and more people doing searches on their smart phones while on the go.
Now that we've ascertained that SEM is very useful for conversions such as purchase or lead generation, should we park all our resources in SEM? Well, probably not.
If you recall the optimal process of a marketing campaign would be first to build awareness to let the public gain interest in the services you're selling. Then the customer would probably go on to a search engine to find out more about your product.
Traditional Broadcast advertising such as  Radio/TV commercials are key channels you can use to create brand awareness and an offer to complement your SEM campaign. We've found radio to be the #1 ROI medium for our clients, especially when combined with one of our companion online SEM campaigns. Both Broadcast and SEM are more effective when done together. In the digital age today, people are flooded with all sorts of information, and busy with the different activities available online (e.g. facebook-ing). Imagine the amount of "noise" you'll need to penetrate before getting the attention of your customer.
Now, imagine someone driving in the car. He / she would have no access to the internet during this time, and the only way to reach out to him / her would be via the radio. That's a whole lot less clutter you'll need to get though, as compared to most types of online advertising.
There may also be a chance where part of your target audience aren't that digitally savvy. Again if we use "home improvement" as an example business type, people in their 60s-70s staying alone may not go online as often and still stick to traditional media when looking for such services.
Depending on the type of product / services you have to offer, there's many different strategies that can be employed with SEM alone or together with traditional broadcast advertising to increase your Brand awareness and Lead Generation, each different from one another. However the ideal campaign should contain online and offline (like Radio/TV) channels for your marketing campaign. 
We can help.
We'd love to talk to you and find out how we can help with your marketing! Contact us now and we'll provide you with a free Digital analysis of your current online marketing worth $500 bucks!
To reach SGM advertising please call us weekdays 9am-5p PST Mon-Fri at:
(916) 576-1977
Or use our convenient live chat box at the bottom of this page.