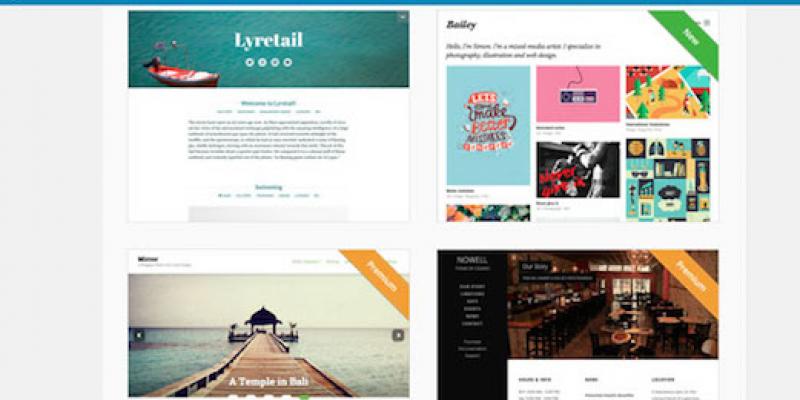 need a google friendly website? Here's the best platforms to use!
Many of our clients are facing the problem of having an older website that Google is penalizing for several reasons. Your site may not be up to date- meaning the platform is unable to present a "responsive" site".  A responsive site simply means that your website changes shape automatically, like a rubber band- to give the consumer a good experience on their mobile phone, on an ipad, and on a computer.  Kathyrn Potraz of PASTE has written an excellent article we'd like to share regarding the pros and cons of different platforms to choose from, when having someone design a new or updated website.  When we work on a client's Google PPC campaign, it's crucial to have a responsive site, as google now penalizes older sites, and you could end up paying DOUBLE the cost per click on mobile, for example. So it's time to stop procrastinating and get the new site done! Then contact us for expert digital advertising, including google PPC, Display re-targeting, and traditional mass media advertising including radio and TV. media buys and more. 
The Pros and Cons of different web platforms
Having an online presence as a designer is crucial. It's how clients find out about your work, how you market yourself as a professional and the first thing an employer will see when they Google your name. There are tons of web platforms available, so which one will be the perfect fit?
Here are the pros and cons of five different platforms: WordPress, Squarespace, Cargo, Wix and Weebly.
WordPress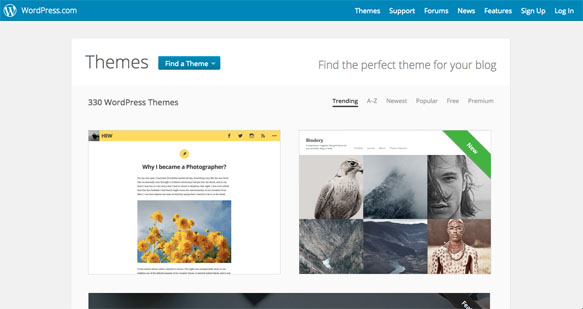 WordPress is a powerful tool. The most versatile of the five platforms listed here, WordPress can be used as a simple blog, a portfolio, an eCommerce store or a complex business site. As such, the pros and cons of WordPress stem from the same point: WordPress has a lot of options. There are thousands of templates and plug-ins to wade through, which is awesome if you have a specific vision of what you want, but the choices can be overwhelming if you're looking for something straightforward.
The good news is, even if the options are daunting, WordPress is a widely used platform (they boast their sites comprise of 23 percent of websites on the internet), and lots of forums cover common questions with WordPress.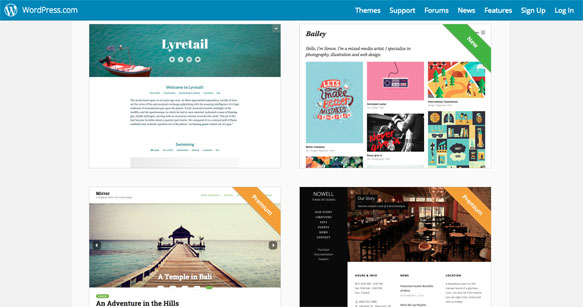 Cost
Almost all of the platforms discussed here have a free option, but not all free options are created equal. WordPress offers a pretty generous 3 GB of space. However, free users don't have access to Google Analytics, nor can they customize their design much. They're also restricted to a URL with "wordpress.com" appended to the end, and can't take advantage of WordPress's eCommerce features.
Luckily, the upgrade is pretty cheap. For $99/year (the fee is paid annually, but for comparison purposes, that's $8.25/month), users unlock "premium" features like a custom site address, 13 GB of space, no ads and the ability to customize design.
But the best features are under the "Business" plan, at $299/year ($25/month). For this version, there's unlimited space, unlimited premium themes and Google Analytics. It's a pretty reasonable cost for a small business, and users can set up shop with eCommerce to offset the cost of the plan.
Squarespace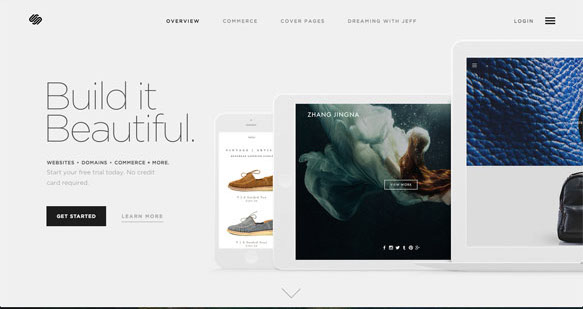 Squarespace is a pretty popular option among users who want hassle-free site design options. With it's drag-and-drop site building, Squarespace sites are customizable and easy to use. The user base is skewed more toward portfolios, small businesses and online shops. Jeff Bridges recently partnered with Squarespace to create Sleeping Tapes, the sleep aid made up of Bridges' spoken word pieces paired with ambient noise It's an interesting partnership, and the pay-what-you-want proceeds go to charity.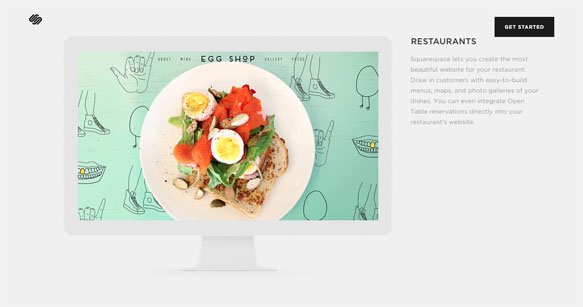 Cost
There's a free two-week trial period with Squarespace, but no long-term free option. Instead, choose from three paid versions.
Personal: This one costs $8/month when billed annually, or $10 for month-to-month billing (you save $24 billing annually). This plan comes with 20 pages, unlimited bandwidth and storage and fully integrated eCommerce. The drawback is being restricted to selling one product.
Professional: This plan, their most popular, is $16/month annually or $20 month-to-month (save $48 by billing annually). Unlike the Personal plan, this plan has unlimited pages, and you can sell up to 20 products. You also gain access to editing HTML and CSS on your site.
Business: The Business plan is $24/month annually or $30 month-to-month (save $72 by billing annually). The most inclusive plan of the bunch, the Business plan includes unlimited pages and the ability to sell unlimited products. You'll also have some help with shipping with a real-time shipping rates from USPS, a label printer, and an integrated accounting service by Xero.
Additional charges: For a custom domain name, add $20 to your plan each year (the first year's free). For a custom Google email account, it's $5 extra.
Cargo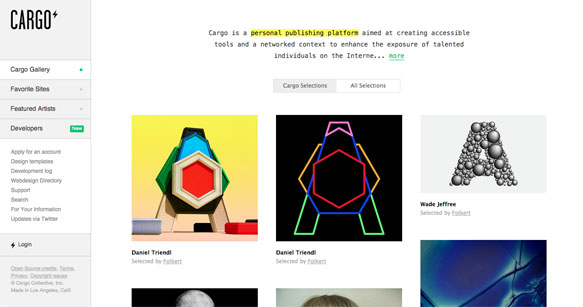 Cargo is the platform built by artists, for artists. The layouts are often simple grids or single-image pages with a sidebar. To get an account, you need to apply or be referred, but don't let that stop you. The platform is focused on being portfolio-friendly, with images as centerpieces of the site designs. It's probably the best bet for the most straightforward, simple website.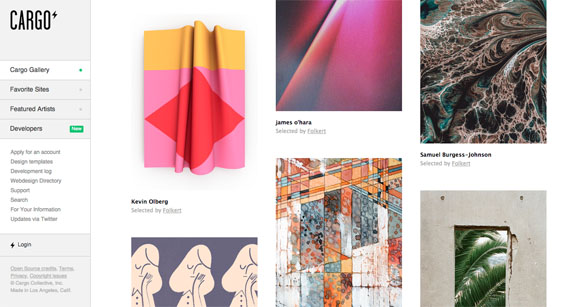 Cost
The free version only offers 100MB of image storage, but that's doable for uploading select portfolio pieces. You also get 12 projects and three pages of content, cloud hosting and can edit the CSS.
The upgrade is $66/year or $9/month (save $42 by billing annually). For this price you get unlimited projects, pages and bandwidth, 6 GB of image storage, can add custom HTML, and have access to all of Cargo's designs. If all you want is something simple to put your photos or designs on, billing annually with Cargo is the cheapest option at $5.50/month.
Wix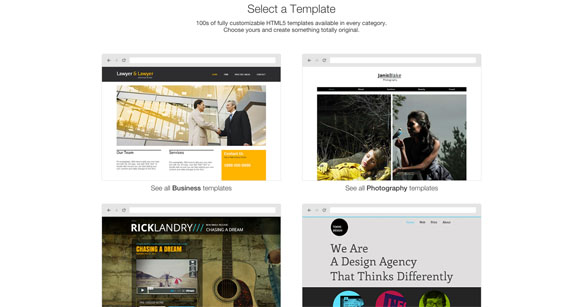 Like Squarespace, Wix is a drag-and-drop site builder, meaning it's easy to use and customize. You can add and edit your own HTML and integrate social media into your pages. Wix offers six plans including the free version, each optimized for different uses. Small business might get the best use out of Wix, as the plans offer generous storage and bandwidth, and advertising vouchers at the higher levels.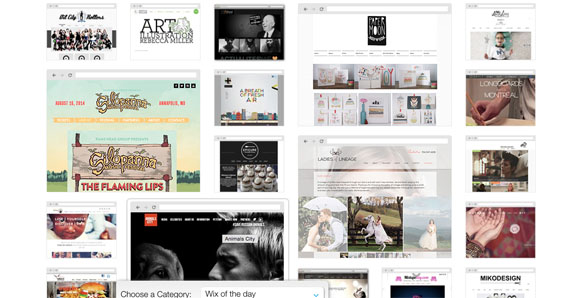 Cost
Free version: This gets you 500 MB of storage, 500 MB bandwidth, your choice of templates, unlimited pages and Wix provides images for you to use on your site.
Connect Domain: The least pricey option, but it doesn't offer much extra from the free version. At $4.08/month when billed annually, you get the same 500 MB/month storage, plus 1 GB bandwidth, analytics, and the ability to connect to your own domain. This version shows Wix ads on your site.
Combo: Costs $9.25/month when billed annually. Starting with this plan and moving to the pricier ones, the premium plans offer 1 year of a free domain, after that the price differs based on the type of domain. You also get 3 GB storage, 2 GB bandwidth, no Wix ads and the ability to add a custom favicon.
Unlimited: This plan is $12.42/month when billed annually and includes everything in the Combo plan, plus 2 free apps, 10 GB storage, unlimited bandwidth, and ad vouchers for local listings, Bing, Google and Facebook.
eCommerce: The eCommerce plan is best for online shops, costing $16.17/month when billed annually. It offers 20GB storage, 10 GB bandwidth and the ability to host an online store.
VIP: The most inclusive package at $24.90/month when billed annually. With this option, you have access to a VIP support line, 20 GB storage, unlimited bandwidth and perks like a professional site review. But unless you need the extra bandwidth and really value Wix support, the eCommerce plan offers the same options at a better price.
Weebly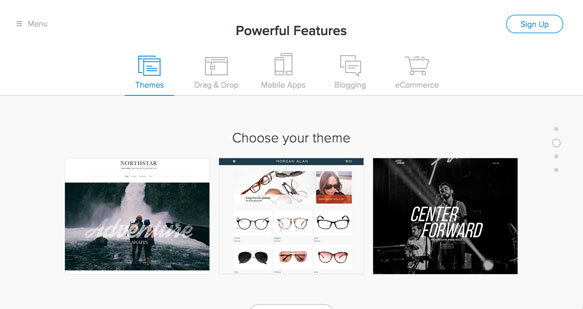 Similar to Wix, but more eCommerce-friendly, Weebly is another great drag-and-drop site building option. You can also edit on the go with the Weebly app.
Cost
There are four price levels at Weebly.
Free: The free option has free hosting, offers unlimited pages, the ability to sell 5 products, and gives you a $100 Google ad credit. With the Free, Starter and Pro plans, eCommerce sales are subject to a 3 percent Weebly transaction fee.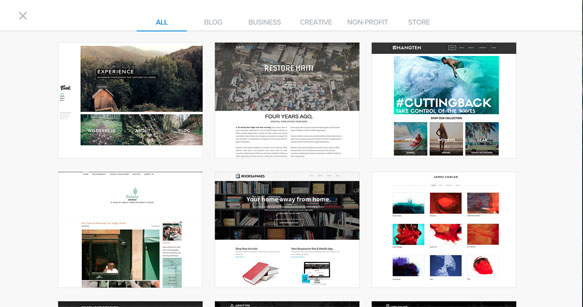 Starter: Like Wix, there's not much extra at the lowest-paying level. For $4/month you can connect your domain, get extended stats, can sell up to 10 products, and have little extras like a custom footer and favicon, and it removes the Weebly link from your site.
Pro: At $8/month, you get the same as the Starter plan, plus the option for a header slideshow and HD audio/video, you can password protect certain pages, can utilize a site search, can accept up to 100 members of your site, and can sell 25 products.
Business: The best option for small businesses, and one of the best options across all the platforms discussed here. At $25/month you get all the above plus SSL security with 128-bit encryption, can sell unlimited products, the transaction fee disappears, checkouts happen on your site (instead of redirecting to Weebly), you can sell unlimited products plus digital goods like .PDFs and .ZIP files, you can track inventory, get more shipping options, and can offer coupon codes to your customers.
*** For more information on Kathryn and PASTE, visit: http://www.pastemagazine.com/articles/2015/03/the-pros-and-cons-of-the-t...
We can help.
We'd love to talk to you and find out how we can help with your marketing! Contact us now and we'll provide you with a free Digital analysis of your current online marketing worth $500 bucks!
To reach SGM advertising please call us weekdays 9am-5p PST Mon-Fri at:
(916) 576-1977
Or use our convenient live chat box at the bottom of this page.