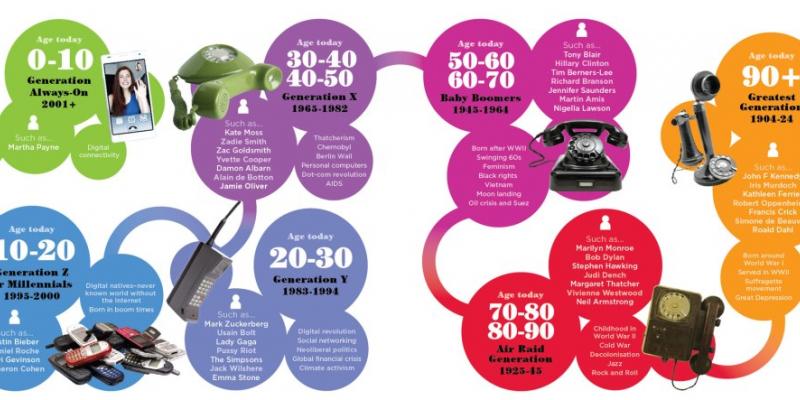 Different Generations and Advertising
It used to be 25-54 was the catch all age group for the ideal customer, but as more studies come out, it's become apparent  that the buying habits of a 25 year old are vastly different from a 54 year old. Can you market to both? Yes- if you use a target segmentation marketing plan. We've done that for several clients- like Elliott's Fine Nutrition. A business that sells supplements to people over 50 as well as young women in their 20s is attracting these distinctly different demographics for different reasons. Both are customers, and both need to hear you relating to their needs. So what is the best way to reach each generation and capitalize on their unique shopping interests and needs? Here are some suggestions:
Greatest Generation: Freebies and senior discounts to appeal to their value orientation. Special products addressing aging issues; special packs for smaller households. Better signage, more forgiving package design, on-shelf or on-cart magnifying glasses. These savvy shoppers spend most of their online time using email and message boards, providing two ready avenues for delivering targeted offers and initiating value-add discussions about health issues and special wellness programs.
Boomers: Keep these big spenders happy with monthly or quarterly cash-back savings programs that reflect spending levels. Pursue the up-sell into prescription medications, insurance, gifts for grandkids and kids, entertainment, travel, even discount wines by the case. Comprising more than one-third of the Internet population, Boomers are big online shoppers, comfortable using email and messaging to stay in touch. Twitter is a huge untapped outlet for reaching Boomers, who increased utilization 469% during 2009. Reach one and you reach their entire follower base with product info and special offers.
Gen X: Time is a precious commodity for these busy young families, so reduce deadline pressure by offering meal planning and deals, school supplies and little indulgences like lattes to make shopping less onerous. Child care activity centers or computer kiosks keep kids engaged while parents shop. In-store cooking or craft classes offer family fun and a reason to increase the trip count. More than 80% of X-ers are online checking out Facebook and Twitter, shopping and price checking online and texting or emailing friends. Deliver quick hit info and offers using new media for fast results.
We can help.
We'd love to talk to you and find out how we can help with your marketing! Contact us now and we'll provide you with a free Digital analysis of your current online marketing worth $500 bucks!
To reach SGM advertising please call us weekdays 9am-5p PST Mon-Fri at:
(916) 576-1977
Or use our convenient live chat box at the bottom of this page.